News
Filling the Gaps
Mission Cataract USA combats cataract blindness domestically
Jan 14, 2016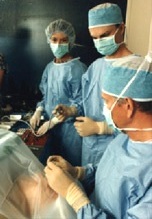 A mother of the bride can't see her daughter walk down the aisle. A grandmother can't pick out her grandchild on the playground.
A self-employed woodcarver can't see well enough to continue his trade. All three of these individuals live in the U.S. and were once going blind from cataracts. All three were uninsured, ineligible for Medicare, and couldn't afford the surgery on their own. And all three had their sight saved by Mission Cataract USA, a non-profit program that works to provide the impaired with free cataract surgery. Mission Cataract patients "tend to be between 40 and 60 years old and are often working, but don't have any kind of health insurance that would cover cataract surgery," said Herb Ingraham, M.D., chairman, ophthalmology department, Geisinger Health System, Danville, Pa., and Mission Cataract volunteer. "They have no way of paying thousands of dollars to have their cataracts taken care of."

The U.S. may seem like an unlikely place for cataract blindness—most think of it as an international issue, not domestic—but a staggering number of people fall through the cracks. According to a 2008 U.S. Census Bureau report, more than 45 million people under 65 are uninsured, two-thirds of which live below the poverty line. With the impact of the recession over the last couple of years, that number could be as high as 50 million. Cataracts, although often an aliment of the elderly, can develop in people at any age and become significant well before Medicare kicks in. "Patients usually have pretty significant cataracts," said Dr. Ingraham. "We're not doing the 20/30 patient who is bothered by a little bit of glare while driving at night. These are patients who are 20/400, counting fingers. They are trapped. Their vision is getting worse and worse, and they may have gotten along with a cataract in one eye, but now their second eye is starting to go. What job they do have they are about to lose because they can no longer see to do it. That's a story that's been consistent from patient to patient."

With the help of some benevolent doctors, Mission Cataract is working to rewrite those stories. The program began in 1991 when Frederick A. Richburg, M.D., medical director, Valley Eye Institute, Fresno, Calif., and Sheree Petree, founder of the public relations firm Personalized Info-Media, collaborated to provide a day of free cataract surgery for those without insurance. In 1992, six California-based eye surgeons joined the effort, offering free surgeries statewide for eligible patients. A year later the program expanded nationwide, helping to provide free cataract surgery to roughly 10,000 people over its 20-year history. "Most of my clients were doctors, and I specialized in writing and printing patient information literature and developing community service programs," explained Ms. Petree. "I closed Personalized Info-Media about 10 years ago after my husband passed away, but I continued to manage and publicize Mission Cataract USA because there is such a need for vision impaired individuals to find help."

Ms. Petree acts as the program's national coordinator and runs Mission Cataract, which she funds with her own money, from inside her home. "I talk to people all over the country who are desperate to see again," she said. "Their stories break my heart, and I try to connect them with participating Mission Cataract doctors who generously donate free cataract surgery. I am currently trying to obtain donations and grants to fund the program and help me recruit new doctors." Ms. Petree's goal is to have a Mission Cataract doctor in every state, but participation varies yearly as some practices drop out and others join. The South is especially in need of coverage, specifically Georgia, South Carolina, and Arkansas. Organizing such a big effort can seem daunting for doctors, so Mission Cataract tries to make it as easy as possible on volunteer surgeons. After joining the program, participants are given an instruction packet explaining step-by-step how to proceed and recruit volunteers in their community. The packet includes a media kit consisting of press releases and public service announcements so the practice can effortlessly advertise the screening day. "Doctors get overwhelmed and their staff is busy," said Ms. Petree. "With the packet, they don't have to figure out how to contact the media, write a press release, and get the word out. We also provide financial questionnaires in English and Spanish so doctors can determine if patients meet the requirements."

Surgeons have the freedom to choose a screening day that works for them, as well as a surgery day about a week later. But some doctors decide to tack on pro bono patients at the end of their regular surgery days to save on operating room costs. "When the program started, our vision was to have a Mission Cataract day across the country, the first Saturday in May," said Ms. Petree. "But that didn't work out for all of the doctors, so we changed the program to enable the doctors to do whatever day was best for their community. The program is very flexible with different doctors doing it at different times. Doctors do as many surgeries as they are able."

Dr. Ingraham, for example, has completed 94 surgeries during his 6 years with Mission Cataract and expects to do another 20 this year. Some doctors do only three or four cases yearly, others 60. "It's been a tremendously satisfying experience, particularly on screening day when patients realize that we're going to take care of this at no charge to them," said Dr. Ingraham. "In many cases, they are crying. I think some come to the screening day thinking there's a catch. When they realize that's not the case, it is tremendously satisfying to say, 'Yes, we are going to help you. Yes, we realize you have no ability to pay, and yes, that's OK.'" They may not be able to pay, but most patients want to say thank you any way they can. Dr. Ingraham has received tokens from patients ranging from homemade quilts to flower bouquets. Jim Spradley, a patient of Dr. Richburg's, said thank you with a carousel horse, a gift to the doctor who gave him back the sight to finish carving it.

"I am so inspired by the patients and their courage, not only to be getting along with their vision as bad as it is, but it would be very hard for me to go to someone and say, 'I really need this help,'" said Dr. Ingraham. "The fact that they can do that is remarkable."

If you'd like to participate in Mission Cataract USA or make a donation, please email Sheree Petree at sheree@shereepetree.com.